Wilmar is one of the largest oilseed and edible oil processors in China, we also own processing plants in Malaysia and South Africa. Through joint ventures, Wilmar also has interests in processing plants in India, Russia, Ukraine, Tanzania, Zambia and Zimbabwe.
We crush oilseeds such as soybean, rapeseed, groundnut, sunflower seed, sesame seed and cottonseed into oilseed meals and edible oils, and mills wheat and paddy into wheat flour, rice and bran. Wilmar owns and operates a number of strategically located crushing facilities and mills mainly in China.
View maps of Wilmar's oilseed crushing, rice milling and flour milling facilities.
Wilmar is also engaged in the merchandising of edible oils, meals, oilseeds and grains. Our products are mainly sold in bulk to distributors, wholesalers, feed millers, industrial users and retailers in China as well as our Consumer Products division.
Read more about Wilmar's business in China.


Oilseed Processing
first
Crushing soybeans into flakes and crude oil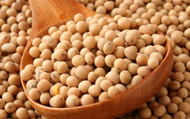 Soybeans, received from vessels or rail cars (for local beans) are transferred to silos for storage. From here, the beans are fed into the preparation plant for processing.
The process begins with the cleaning of soybeans to remove impurities. The beans are then heated to adjust for moisture content and to loosen the hull for improved dehulling. They are then cracked by passing through rollermills and the hulls are removed.
The dehulled/cracked soybeans are heated to high temperature to soften and condition them, after which they are rolled into flakes. The flakes are then subjected to an extraction process in which hexane, a petroleum distillate solvent, is used to remove soybean oil from the flakes. From this process, miscella (the mixture of hexane and oil) and wet meal are obtained.
Further processing of wet meal into soybean meal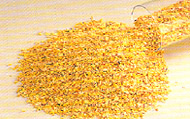 After the oil is removed, the wet meal goes through a desolventiser-toaster to remove hexane and inactivate enzyme inhibitors to improve nutritional value and digestibility of the meal. The flakes are then dried, cooled and ground to produce soybean meal. The level of protein and fibre is then adjusted by adding soybean hulls.
Removal of part of the carbohydrates (sugars) from defatted flakes will produce soy protein concentrate. Soy protein concentrate is about 70% soy protein and is basically soybean without the water soluble carbohydrates.
Refining crude soybean oil into refined oil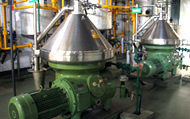 Miscella is distilled and filtered to remove hexane, which is recovered for re-use. The resulting product is crude soybean oil. The crude oil is then refined via three stages: water degumming, chemical refining and physical refining.
In water degumming, a sticky viscous oil-water emulsion or gum is removed by using water and a centrifuging process. Soy lecithin is obtained as a by-product of the degumming process. The chemical refining process removes free fatty acids from the oil using a caustic material such as sodium or potassium hydroxide. In physical refining, the oil is bleached and deodourised. Bleaching removes the yellow-orange carotenoid pigments and the green chlorophyll of the oil. Finally, deodourisation removes the odourous substances through a form of physical distilling, in which the oil is subjected to high temperatures under a vacuum for a short period of time.
Grain Processing
Wilmar is involved in the milling of wheat and paddy into wheat flour, rice and bran.
The flour milling process comprises three key stages, each using its specific type of machinery.
first
Cleaning and Tempering
Wheat is first cleaned to remove impurities such as soil, stones, husk and chaff, as well as damaged or unhealthy wheat. Wheat blending is then done to draw a variety of wheat from different bins at a controlled ratio. In wheat tempering, the wheat is dampened with water and then stored in bins to allow water to penetrate into the wheat kernel. This makes the bran tough and elastic, and minimizes bran fines during milling.
Milling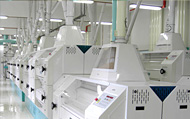 Milling involves three stages:

Grinding – First, wheat kernels are opened and the endosperm scraped off from the bran using roller mills. Bigger granulation of endosperm is gradually reduced into smaller particles and eventually into flour.
Sifting – The material from grinding is sifted into different streams according to size using plansifters. Each stream is then fed into the proper system for further grinding and purification. Flour is also produced at this stage.
Purifying – In the purification process, fine branny fragments is separated from the endosperm particles. This is done using vibrating sieves together with air drawn upward from bottom of the sieves.
Blending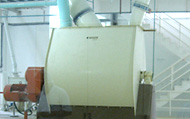 To achieve the end product with desired flour properties, different basic flour and additives are blended together. Each type of flour is dosed into a weighing scale according to the formulation and then mixed to create a homogeneous blend. After blending, the flour is stored in bagging bins ready to be packed.