The merchandising and processing of palms and laurics begins with the origination of raw materials, namely crude palm oil (CPO) and crude palm kernel oil, which are obtained from both our own plantations and external sources. These raw materials are then processed into products such as bulk edible oils, specialty fats, oleochemicals and biodiesel which are sold to customers.
Wilmar owns and operates a number of strategically located and vertically integrated palm and lauric oils processing plants, in Indonesia and Malaysia to produce palm and lauric oils and related products including refined, bleached and deodorised (RBD) palm oil, RBD palm olein, RBD palm stearin, RBD palm kernel oil, specialty fats, oleochemicals and biodiesel.
Additionally, we also own processing plants in China, the Netherlands, Germany, Holland, Vietnam, the Philippines, Sri Lanka, the USA, South Africa and Ghana. Through joint ventures, Wilmar also has interests in processing plants in India, Bangladesh, Russia, Ukraine, Ivory Coast, Nigeria, Uganda and Zimbabwe. Our products are versatile substances with a number of important edible and industrial applications in many industries including food manufacturing, cosmetic and pharmaceutical industries as well as the biodiesel sector.
Wilmar's integrated refining and processing plants are strategically located close to its sources of raw materials. To ensure a lower cost structure and quicker delivery, these refining and processing plants are usually located near deep draft ports that are logistically advantageous for transport.
View maps of Wilmar's edible oils refining plants, oleochemicals plants, specialty fats plants and biodiesel plants.

Palm & Laurics Processing
first
Crushing palm kernel into crude palm kernel oil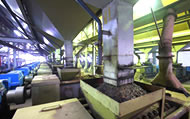 The palm kernel nut is fractured causing the palm kernel within the shell to contract away from the shell. The shell is separated from the kernel through a clay bath where it is recycled as fuel in the boiler room or cogeneration plant.
The palm kernel is further crushed to produce crude palm kernel oil and the remaining palm kernel meal is used as animal feed.
Refining into Refined, Bleached and Deodorised (RBD) palm oil and RBD palm kernel oil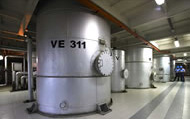 To produce refined oil, crude palm oil and crude palm kernel oil are processed through three refining stages, namely degumming, bleaching and deodourising.
In degumming, the gum and fatty acid in crude palm oil and crude palm kernel oil are separated together with other impurities such as trace minerals, copper and iron by the application of phosphoric acid.
In bleaching, the oil is mixed with bleaching earth (bentonite calcium) in a vacuum room to remove impurities and colour pigments in the palm oil.
In deodourising, the odour and taste of the oil are removed when the oil is steamed at high temperatures of between 240°C to 260°C and then cooled to room temperature.
Fractionating into RBD stearin and RBD olein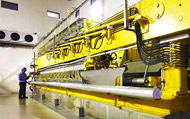 RBD palm stearin and RBD palm olein are obtained by the fractionation of RBD palm oil; whereas RBD palm kernel stearin and RBD palm kernel olein are obtained by the fractionation of RBD palm kernel oil. Through the process of crystallisation, RBD oil is cooled until crystals are formed.
The crystallised oil in the crystalliser is then filtered through a membrane to separate the liquid fraction i.e. olein from the solid fraction i.e. stearin. RBD palm olein is usually sold as cooking oil and may undergo further fractionation depending on the quality required.
Manufacturing Specialty Fats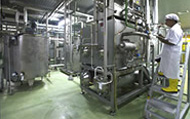 Further processing of the palm and palm kernel fractions will convert them into high value-added products used in various food applications ranging from healthy frying to gourmet chocolates.
Various state-of-the-art and in-house developed processing methods are used to make the transformations of the fats, such as fractionation, hydrogenation, inter-esterification, fat blend formulations and texturisation.
Fractionation is used to produce various soft and hard trans-free fractions and many mid-fractions with unique qualities for special applications.

Hydrogenation is a process which hardens oils or its fractions to produce products with unique melting profiles to meet special applications in the food industry.

Inter-esterification, which is gaining more prominence in the industry, is a process which re- combines two types of different oils and fats by rearranging the triglyceride molecules. This process can be used to produce fats which are similar to hydrogenated products but without the trans-fatty acid.

Fat Blend Formulation is a process where various fats and fractions are combined to meet specific applications. Exotic fats such as illipe and shea fats are processed for formulating cocoa butter equivalents.

Texturisation is a process where the final formulated fats are chilled and crystallised to meet the right stable consistency suitable for some applications such as creaming and baking, and for long distance transportation.
These processes can be used either individually or in combination to produce suitable fats for various applications.
Read more about Specialty Fats.
Manufacturing Oleochemicals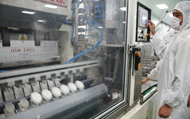 The raw materials commonly used in the production of oleochemicals include RBD palm oil, RBD palm stearin, crude palm kernel oil / coconut oil and tallow.
Oleochemicals are produced by splitting oils or fats through a hydrolysis (using water) or alcoholysis / trans-esterification (using alcohol) process. Hydrolysis produces fatty acids and glycerin while alcoholysis produces fatty acid esters and glycerine.
The other processes involved to further transform fatty acid or fatty acid esters include hydrogenation (conversion of unsaturated fatty acids into saturated fatty acids), distillation (purification) and fractionation (separation of fatty acid by degree of saturation).
Read more about Oleochemicals.
Manufacturing Biodiesel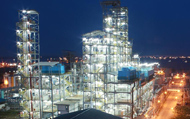 Biodiesel is a basic oleochemical and is produced through the trans-esterification of RBD vegetable oils using methanol in the presence of a catalyst. The process is followed by neutralisation, separation of crude biodiesel and crude glycerin and methanol recovery for re-use in the process.
Crude biodiesel and crude glycerin undergo a purification process to produce methyl ester biodiesel and refined glycerine.