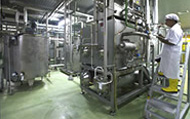 Further processing of the palm and palm kernel fractions will convert them into high value-added products used in various food applications ranging from healthy frying to gourmet chocolates.
Various state-of-the-art and in-house developed processing methods are used to make the transformations of the fats, such as fractionation, hydrogenation, inter-esterification, fat blend formulations and texturisation.
Fractionation is used to produce various soft and hard trans-free fractions and many mid-fractions with unique qualities for special applications.

Hydrogenation is a process which hardens oils or its fractions to produce products with unique melting profiles to meet special applications in the food industry.

Inter-esterification, which is gaining more prominence in the industry, is a process which re- combines two types of different oils and fats by rearranging the triglyceride molecules. This process can be used to produce fats which are similar to hydrogenated products but without the trans-fatty acid.

Fat Blend Formulation is a process where various fats and fractions are combined to meet specific applications. Exotic fats such as illipe and shea fats are processed for formulating cocoa butter equivalents.

Texturisation is a process where the final formulated fats are chilled and crystallised to meet the right stable consistency suitable for some applications such as creaming and baking, and for long distance transportation.
These processes can be used either individually or in combination to produce suitable fats for various applications.
Read more about Specialty Fats.