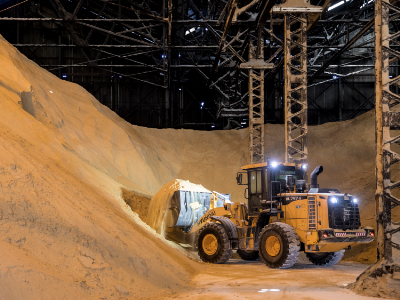 We operate an integrated sugar business across the entire value chain from sugar cane and beet plantations to the sweeteners aisle in supermarkets. In between, we operate sugar mills, cogeneration plants, ethanol distilleries, and sugar refineries across the globe, linking key origins and destinations through a market-leading merchandising team based in Singapore and Geneva. A white sugar marketing desk also operates from Dubai, centralising white sugar sales and distribution from our many refineries.
We are one of the world's top 10 raw sugar producers, with operations in Australia and New Zealand, Indonesia, Morocco, India, Myanmar, Brazil and China. This global network and integrated supply chain gives us a unique position as one of the world's largest international traders of sugar.
We are committed to the development of sustainable sugar through the NDPE Sugar Initiative. For Bonsucro certified volumes, our Singapore trading office is committed to implementing and maintaining the Bonsucro Chain of Custody requirements to ensure demand for certified sugar is met wherever possible.

Working in partnership with our suppliers
Working in partnership with our suppliers is a vital approach for Wilmar. This allows us to fortify our supply chain relationships to source sugar responsibly, mitigate risk and promote responsible and sustainable practices. We embrace the idea that profit should go hand in hand with ethical business practices.
Being one of the largest sugar traders in the world, Wilmar is committed to extend our approach to sustainability across our supply chain. Aligned with our core beliefs as indicated in the original NDPE policy and updated to reflect the key material issues within sugar supply chain, Wilmar launched our No Deforestation, No People Exploitation (NDPE) Sugar policy in September 2021. Key to this policy is the scope which extends beyond our operations to include joint ventures and third-party suppliers in the sugar supply chain.
Core to our NDPE Sugar policy is a commitment to create a transparent sourcing network through traceability mapping, which in turn enables us to better understand our supply chains and gain fuller visibility to origin. Ultimately, this also provides a solid foundation to implement our policy upon.
Principles
The following principles are the core of this policy for our sugar supply chain. Principles 1 and 2 are mandatory principles relating to the minimum expected sustainability requirements of all Wilmar's supply base. Principle 3 recognises the importance of continuous improvement and enhancing operational practices through a progressive and ongoing implementation approach
Wilmar is committed to ensuring that the following principles apply to the rights of all people directly impacted by any operation covered under the full scope of this policy, whether through employment or proximity. This includes people living locally in nearby or adjacent communities, and people working as employees and contractors, including temporary, seasonal, and domestic and international migrant workers.
The scope of the first principle recognizes and supports internationally recognised human rights, and the rights of all workers. We are committed to protect the rights of children and their welfare. Wilmar also pledges to respect land tenure rights and the rights of indigenous and local communities to give or withhold their Free, Prior and Informed Consent (FPIC) to operations on lands to which they hold proven legal, communal or customary rights. As we strive to do better for the community, we will cooperate to identify measures to provide remediation where the company has caused or contributed to negative human rights impacts.
No conversion of natural ecosystems
Wilmar does not allow conversion nor the use of fire in areas of natural ecosystems that are defined internationally or nationally as legally protected areas or identified as High Conservation Value (HCV) areas. Any sugarcane farm development activity must demonstrate that such activities do not involve areas internationally or nationally legally protected or HCV areas.
Greenhouse Gas (GHG) emissions are measured with reduction targets in place
For Wilmar-owned operations, we will adopt and implement GHG emissions reduction targets, which will be achieved through the use of best management practices.

For mill suppliers, it will be important to map greenhouse gas emissions footprint as a starting point with a commitment to improve emissions, which entails setting of targets to reduce emissions.
This principle is framed as a continuous improvement principle as it recognises that our suppliers are at different stages of their sustainability journey, thus requiring a flexible approach to identify and address continuous improvement priorities relevant to their individual context. Wilmar encourages and supports suppliers to develop their approach to the overall enhancement of operational practices.