Fire Prevention and Management
Fire Prevention and Management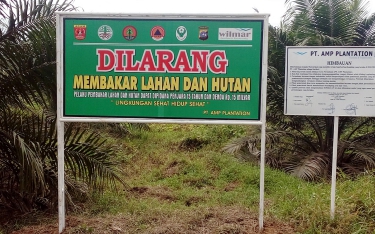 Wilmar has taken on an active role in mitigating the occurrence of haze in the region, through the implementation of our No Deforestation, No Peat, and No Exploitation integrated policy. This policy applies to all Wilmar operations worldwide, including those of our subsidiaries and third party suppliers. We monitor fires in all Wilmar's concession and areas surrounding our concessions. We supplement these efforts with community education and awareness campaigns, as well as multi-stakeholder partnerships to entrench sustainable practices throughout the industry.
No Deforestation – No Burning
One of the key tenets of the No Deforestation pillar is a strict No Burning policy. We do not tolerate the use of fire in land preparation or development. Mechanical methods are employed in land development, and wood debris is left to decompose. This returns nutrients back into the land and reduces the need for inorganic fertilisers, thereby also reducing the greenhouse gas footprint.
In recent years, Wilmar has not had substantive reasons to clear land, as we have not expanded our planted areas in Indonesia. All our suppliers have been notified that any deliberate breach of our No Burn policy will result in the immediate termination of business dealings.
Public statements relating to No Burn policy or fire management:
Wilmar has a 24/7 fire monitoring system in place to alert us of fires in and around our concessions, and a well-established fire prevention and suppression programme to minimise the incidence and impact of fire and haze. Our concessions are equipped with fire-fighting infrastructure and equipment, and staffed with an on-site fire brigade. On-the-ground personnel are also trained to be vigilant and prepared to respond to fire incidences quickly and decisively.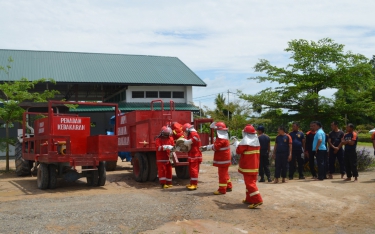 Our 24/7 monitoring system is currently operational mostly in Indonesia as fire incidences are more prevalent. We have since intensified and expanded our programme outside of Indonesia to include Malaysia, Ghana and Nigeria. As of December 2022, we have recorded zero fires in our Malaysia and Ghana operations and surrounding areas while there have been 134 fires detected around our Nigeria operations in 2022.
Despite our best efforts, fires may occasionally occur in our concessions, particularly during the dry season. Most of these fires originate from (i) enclaves within our concessions that are set-aside and controlled by small-scale farmers and local communities who continue to practice slash-and-burn, and (ii) outside our concession areas, and have been propelled into our concessions by topography and wind. We keep detailed documentations of each fire incident, which include the location and size of the affected area, action taken, cause and duration of the fire, as well as photographs. Police reports are filed for all fire incidences, as forest burning is illegal in Indonesia. Fire incidences will also be published in our sustainability report.