Supply Chain Transformation
Aggregator Refinery Transformation
The Aggregator Refinery Transformation (ART) programme was built to strengthen every actor in the supply chain to promote transformation, providing a collaborative framework for refiners, millers and growers with an opportunity to work closely to overcome challenges faced on the ground. Through ART, our refineries provide a central point for growers and millers to progress on HCV; HCS and peat protection; environmental impact management; labour standards; Free, Prior and Informed Consent (FPIC); and traceability.

Typically, 50 to 200 mills supply one refinery and it is impossible to carry out assessments along Wilmar's NDPE Policy requirements at every mill. With over 20 palm refineries in Indonesia and Malaysia, and hundreds of mills in our supply shed, we have adopted a risk-based approach to due diligence. Focus is first placed on identifying and creating transformation in areas with commercial importance, as well as higher risk in terms of environmental and social impact, before progressing to medium and low risk areas. Based on these initial criteria, we have chosen nine key refineries covering six key landscapes in Malaysia and Indonesia. In addition, we are also implementing parts of the programme with selected suppliers in Latin America and West Africa.


At year-end 2017, we have conducted 69 assessments in these areas. These assessments are compiled into anonymised overarching reports by landscape, and each report summarises representative issues that may be prevalent in that landscape. Through Broad-Level Engagement (BLE) workshops, we socialise the common issues to all suppliers operating in that region and share learnings and recommendations for improvement.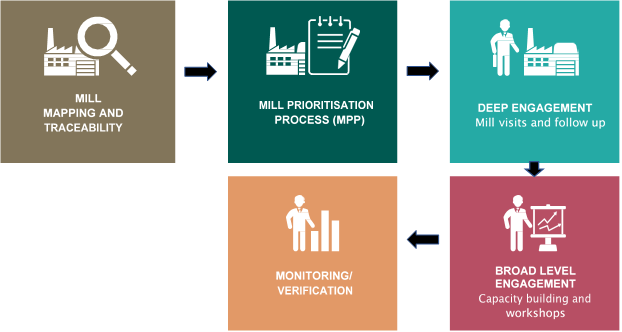 Supplier Reporting Tool (SRT)
Engagement with our third-party suppliers is an important part of ensuring that our No Deforestation, No Peat, No Exploitation (NDPE) policy is implemented effectively. To enable better assessment of our suppliers' progress and their implementation of the NDPE policy, we have developed and launched the Supplier Reporting Tool (SRT) in 2017. The SRT is an online self-reporting tool that is hosted on the OnConnect system to allow suppliers to report their current compliance to environmental and social risk-related issues within our supply chain.